Book your place at the next virtual Harpenden Buzz on our new desktop and mobile app
here
Harpenden Business Networking Venue:

The Inn on the Green, 20 Leyton Road, Harpenden, AL5 2HU– view map
Hosted by:
Janice O'Neill – harpenden@business-buzz.org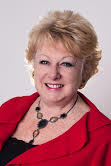 Follow Business Buzz Herts on Facebook and Twitter for updates and connections.
If you want anything done or need to know where to get anything at all, don't 'Ask Jeeves', ask Janice. With her informal approach to networking, Janice welcomes 'virgin' networkers & helps with that initial first nervous step into a room of strangers. Putting people together either business or social & in a relaxed way is a great skill which Janice has learned over the years.
Janice is also a wedding & funeral Celebrant where her communication, listening & organisational skills plus her caring approach to clients help to make those special days personal, memorable & unique.
Drop in for coffee and a chat where you will be made really welcome & meet local business people who may even work next door to you! Who would you like to meet to help your business grow?
Business Buzz Ambassador:
David ran a successful graphic design business for over 30 years before taking a change in direction. He now works through Genistar, a financial education and services company whose mission is to show young families how money really works:
things schools can't because they don't have the resources
things financial institutions won't because their profits are fueled by debt.
He gets  considerable personal satisfaction and reward enabling families to take control of their own finances using common sense disciplines and strategies to clear debts faster and invest in their future sooner – preventing hardship before it needs to be cured.
The magic is he does this without charge to the family.
Details:
Our business networking event in Harpenden runs on the first Thursday of every month, from 10am-12pm.