What Your Business Cards Say About You
When you are in business first impressions count and so you want to make sure that your business cards sell your company instantly to potential customers. Whether you are handing them out at networking events or adding them to a direct mailing business cards are a great way to market your services and make sure that your company will be remembered. Although they are small you should never under estimate their power and it is vital that you make them stand out from the crowd. When you start to create them you really need to think about what your business cards say about you. Here are some ways to make sure that they get the right message across.
Watford printers Colprint have given us their top tips for creating business cards that impress:
Quality Counts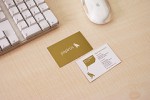 When you are running a business it is always tempting to keep costs as low as possible but sometimes this can be a false economy – especially with your business cards. You want to show your customers that you place a high value on the services and products that you can offer them and this should shine through in the business cards that you give out. High quality, professional cards always make a positive impression and money spent on getting the look and feel of the card right is always well spent.
High Impact Images
It's important to make the most of the space on the front and back of your cards and one way that you can tell potential customers more about who you are and what you do is to use fantastic visual images. Make sure that your logo stands out and is really memorable – you could even consider having it embossed for a truly individual style! As well as just having your name and business details on the card you could put a photo of yourself on too so that people will always be able to remember your face.
Experiment With Fonts And Styles
There are thousands of different fonts out there and you want to choose one that suits your business perfectly. For example a beauty parlour or hairdressers may want a stylish and sophisticated curling script whereas a plumber or electrician may want something more bold and down to earth. Why not experiment with a number of different styles to find the one that you think captures your business best. You can also make use of bold and italic text to highlight the words and phrases that you feel are most important in your message to customers.
Embrace Technology
Traditionally business cards have had your name, business and address details on them. However you want to show your customers that you are keeping up with the latest technology and it's important to make sure your business cards capture this. Use social media icons to let customers know where to find you on sites such as Facebook, Twitter or Pinterest. You should also have your website address on there. The latest trend is to have a QR code on your business cards. This means that people simply need to scan the code on their mobile phone and they will get taken directly to your web page.
Colprint offer the full range of business printing to customers in Watford and further afield. They can advise you on the best look and feel for your printed material to ensure that it has the biggest impact.